It's fresh-sexy-clean. It's GLOW by JLO -2002


"I wanted it to be fresh and clean, but still sexy and sensual - something that feels like you just came out of the shower and you are the sexiest person in the world" ~ J Lo
Fresh as grapefruit and orange flower. Sexy as jasmine and vanilla. Clean as white roses and just washed skin.
The scent that requires you to get closer.


Fresh


Orange FlowerPink GrapefruitNeroli


Sexy


RoseSandalwoodSoft Ambe


Clean


JasmineVanillaMuskOrris

Glow is a soft, sexy, scent touched with subtle, clean freshness. Bright citrus fruits are mingled with sheer florals, warmed with soothing vanilla and musk. Glow is bursting with feminine sparkle and alive with warm sensuality.




J Lo Love at First Glow - 2006
Love At First Glow is this year's fragrance entry. It was created by perfumer Steve DeMercado and has notes of bergamot, neroli, Georgia peach, pink jasmine, wild rose, osmanthus, freesia, sheer musk, blond woods and vanilla absolute.
Love At First Glow is aimed at the 12-18 year old cohort, an even younger audience than Miami Glow. The target age shows in the finished product, which is the sweetest and least sophisticated of the Glow line so far. It has a very noticeable fresh accord over fruity citrus and indistinct but rather sharp florals. The fruitiness fades, and it takes on a pale woody base, but it stays very fresh and clean. I don't catch any of the soapiness of Glow or Miami Glow, and it is lighter on the musk as well.
Scent notes:
Bergamot, Neroli de Provence, Peach, osmanthus, Pink Jasmine, Wild Rose, Freesia, Blond Woods, Sheer Musk & Vanilla.





J. Lo Glow After Dark
"inspired by the feeling you get ... out at a nightclub with your friends," and it shows. Notes of passionfruit, orange flower and musk are sexy, upbeat, sultry and sophisticated -- perfect for a night on the dance floor. Fortunately the affordable scent lasts all night (which makes up for the fact that you can't see how much is left in the flashy bottle). A light spritz makes this strong scent appropriate for day, but it's best worn -- well, after dark! ~ J Lo
The juice — a sheer, floral musk — was created in collaboration with nose Gabriela Chelariu of Fragrance Resources. The top notes include mandarin, white cherry and passion fruit. The heart is a blend of jasmine, peony, rose and orange flower; the base features pink musk, tree moss, blonde woods and patchouli.








J Lo Live - 2006


She lives for the dance. Whatever the beat, she makes it hot, instantly electric. She moves as if nobody's watching, to her own rhythm; feeling her freedom, revealing the core of her inner being. She is totally and powerfully herself, completely in control. She challenges, she dares, she dreams ~ Jlo
"When we decided to do a new fragrance, we looked back to what we had already," said Lopez. "Glow by JLo is about natural beauty, skin, youth. Still Jennifer Lopez is more sophisticated and for unique moments. So when I thought about what I really love, it clearly appeared that I had to say something about dance, the very first artistic passion I had and still have. I wanted to transmit all that energy; you know, the rhythm, that feeling of being totally in control".
Live Jennifer Lopez, concocted by Lopez in cooperation with Dominique Ropion of International
Flavors and Fragrances,

is an upbeat fruity floral. Top notes are of sparkling Sicilian lemon, vivacious Italian orange and juicy pineapple; a heart of fruity redcurrant, heady peony and piquant violet, and a drydown of caramel, tonka beans, vanilla and sandalwood.








J Lo Live Luxe


Live Luxe has a light, fresh aroma, perfect for use as an every day fragrance. Notes include Pear, Peach, Melon, Apple, Muguet, Amethyst Freesia, Honeysuckle, Diamond Musk, Amber, Vanilla, and Sandalwood. The top notes are created by sparkling fruits, melding into sweet florals and finishing with a light, sprightly base. Generally enjoyed as a spring or summer fragrance. Packaged in a gorgeous, iridescent bottle.








J Lo Still - 2003


Still Perfume by Jennifer Lopez, Launched by jennifer lopez in 2003. Still perfume by j. Lo is as sensual as sable over bare skin, as delicate as pink satin, and as refreshing as a first sip of champagne blending sake, white pepper, mandarin, earl grey, pink freesia, honeysuckle, orange flower, rose, wild jasmine, sandalwood, musks, ambers, and orris.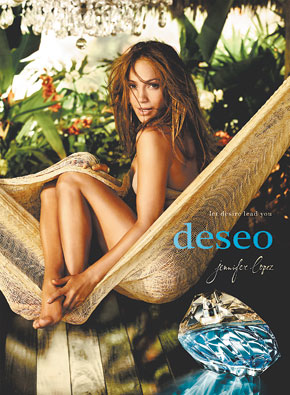 J Lo Deseo - 2003


With Deseo, the inspiration came from a combination of smells in my own garden. So, I called up my friends at Coty and asked them to come take a walk through my garden with me so they could experience it. It was late at night so there was kind of a dew in the air and I took them to an area where there are these beautiful geranium flowers, orange trees, lemon trees, and all this stuff mixing together that was making this beautiful smell.
The fragrance notes include watery bamboo leaves, yuzu, bergamot, freesia, star jasmine, pink geranium flower, orange blossom, mimosa, warm amber, oak moss, musk, sandalwood, cedar, patchouli and mineral accord.